Known for being a "road bike" destination in the Ariège is also an ideal playground for all DH mountain bike aficionados. They will find their happiness thanks to the 5 bike parks of the territory. Ascend by chairlift or shuttle, then hurtle down the slopes at full speed, the bike parks provide their share of sensations, in an exceptional setting!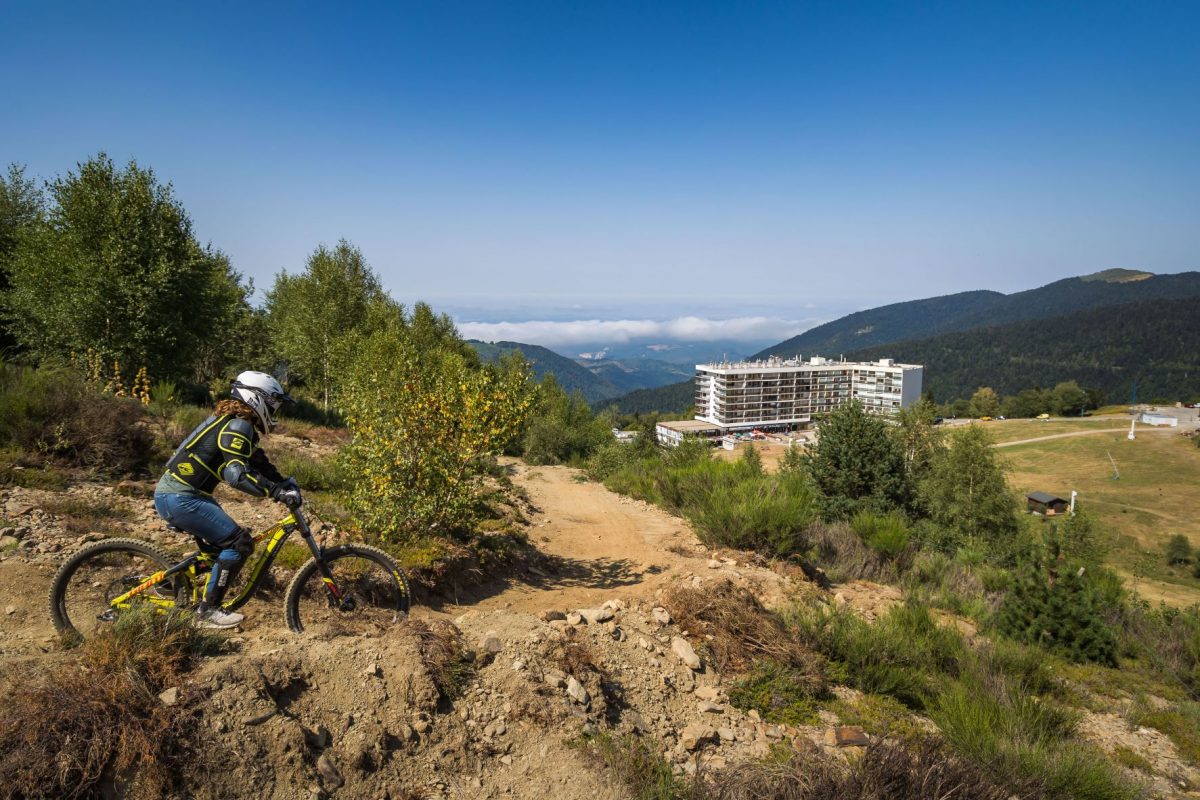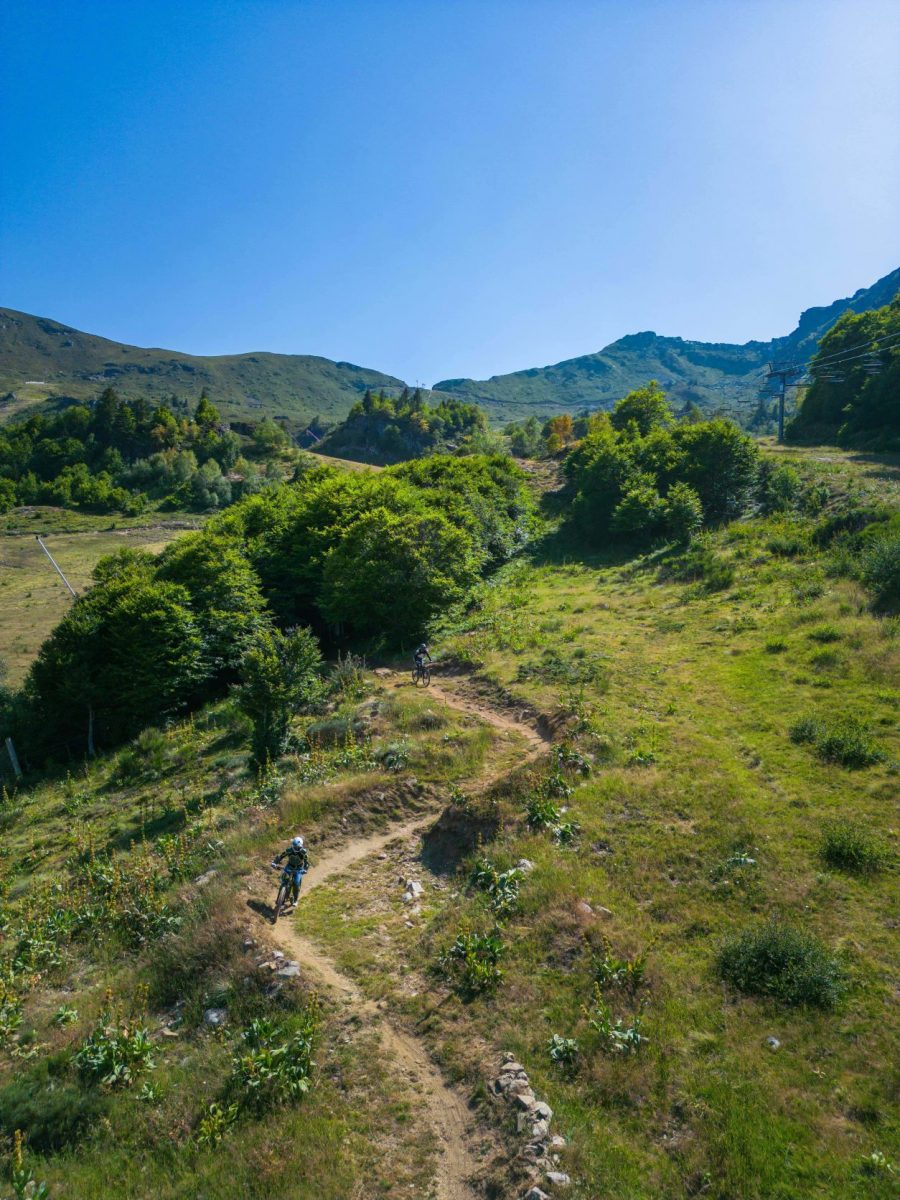 Bikes park at a glance
On the Ariège bike-park, pros and beginners have fun on tracks designed especially for them! Accessible by downhill mountain biking, and enduro, and VAE, the tracks are designed for fun, and to progress in piloting, improving technique, speed, jumps and trajectory.
BIKE PARK AT AX-3-DOMAINES

30 km of slopes
Elevation 1 m
Slopes: 1 green, 1 blue, 2 red, 2 black and 1 development area for beginners
Chairlift lift
BIKE PARK IN THE MONTS D'OLMES

13 km of slopes
Elevation 300 m
Slopes: 1 blue, 1 red + 4 variants, 1 black + 3 variants
Chairlift lift
ALTERNATIVE MTB ASSOCIATIVE BIKE PARK AT COL D'AYENS

Be careful, remember to join to ride! The tracks are reserved for members.
Green, blue, red and black slopes
Jump zone
Ascent on foot or by bike (for enduro mountain bikes)
BIKE PARK IN GUZET

22 km of slopes
Elevation 350 m
Slopes: 2 green, 1 blue, 1 red, 2 black, 1 initiation area
Chairlift lift

How should I equip myself for downhill mountain biking?
It is possible to rent all the equipment in the Bike Parks stations.
In addition to a Gravity bike (special geometry, suspensions with long travel, wide tires and reinforced wheels), rider protection in DH is essential: full face helmet, reinforced gloves, back protection, goggles or goggles, elbow and knee pads as well as slightly high shoes with a rigid sole. For this, shops are present on the resorts to equip you and provide you with great pleasure in riding.
WHERE TO RENT YOUR DH MTB GEAR ?
Station Guzet:
Station of Ax-3-Domaines:
Monts d'Olmes resort:
I'M BEGINNING DH MTB OR ENDURO, CAN I START ALONE?
Like skiing, mountain biking can be learned, yes! The piloting technique is necessary to properly understand the turns, the descents. There are green to black slopes, and when you start it is better to start with the green slopes.
To start, we advise you to call on a mountain bike instructor. You will largely see the difference after a supervised session! By the day or half-day, your instructor will guide you in managing your effort, breathing, flexibility and anticipating obstacles. After a session, you will have the right pedal stroke. Confidence and pleasure will be part of your next descents, that's for sure!
From beginners to expert riders, you can find your MTB Instructor-Guide at the French Cycling Instructors (MCF), to progress at your level.
ARIÈGE DH MTB INSTRUCTORS WITH: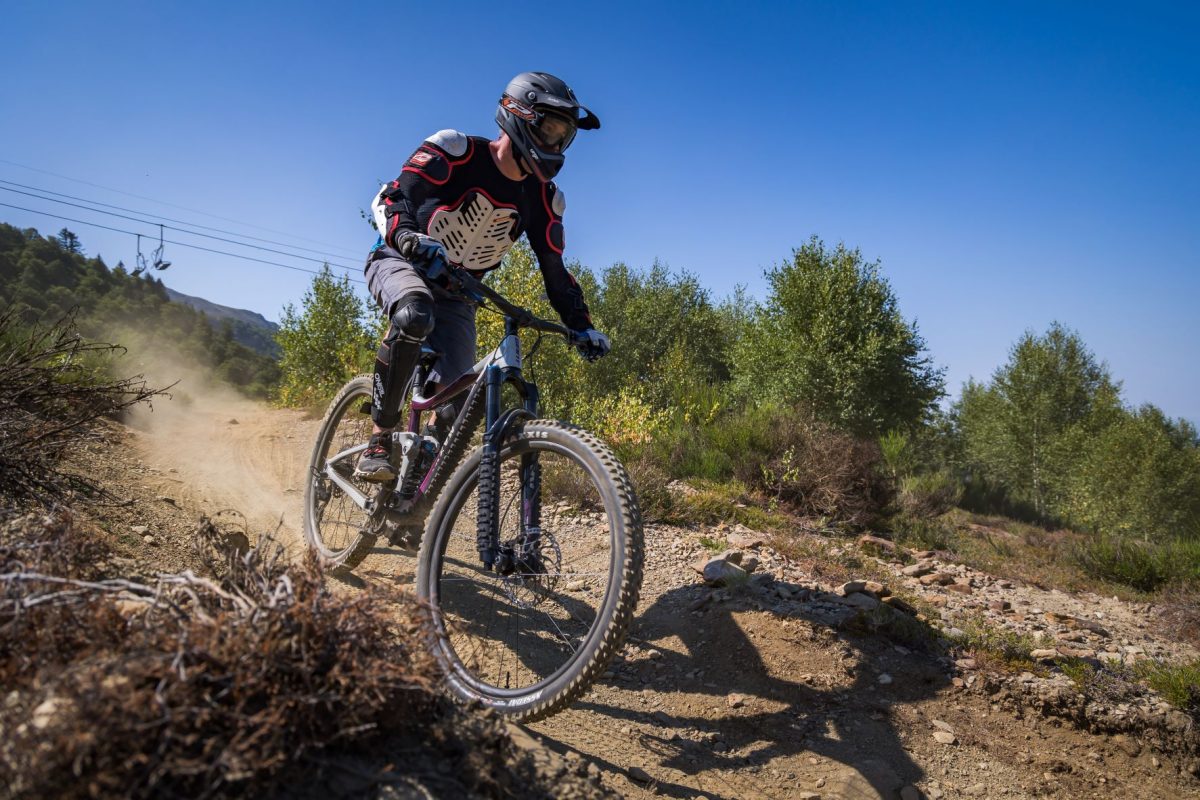 They are talking ?
26 IN !
A community magazine for mountain biking enthusiasts. They, They tell their stories, share their sessions, show their latest video projects… They have the floor! They give their opinions on the Ariège bike parks.
BIGBIKE MAGAZINE
Big Bike Magazine is the essential mountain bike magazine! All the news about Enduro, Freeride, DH, Dirt, XC mountain biking. Find exclusive mountain bike tests, advice for progressing and the guide to Bikes parks stations. Do we find the Ariège there?
As BigBike so aptly puts it:
Ride at Ax 3 Domains it is "an ideal destination for day-riding and exploring the elevation gain in the very playful forest of Ax". For Guzet : it is " one of the prettiest resorts in the Pyrenees, with a breathtaking view of the splendid Valier massif, this bike park continues its path between summer pastures, chalets and fir trees, with routes and downhill trails shaped for the pleasure of beginners to experienced riders. » As for the Monts d'Olmes "The slopes of this small area of ​​Ariège are ideal for a big half-day ride between meadows and undergrowth. By offering a rental product that defies all competition, the resort has created a real offer intended for the initiation and discovery of the sensations of the descent. »
COMMENCAL
commencal, it is a brand of bicycles located just next to the Ariège, in Andorra. It is one of the references in the world of MTB Gravity ! its champions, Amaury Pierron, Myriam Nicole, in particular, are riders of a very high level who excel in almost all races, thanks to their abilities, their training, but also thanks to the unique bikes that make their reputation! Moreover, it is not by chance that we find them in all the bike parks in the world!
Commencal also has its own media department. She really values ​​her team, Hugo Frixtalon, Pierrick Lannes, and the Ariègeois: Thomas Estaque.
And to go further we let you discover all the videos of the "Chill Zone – Commencal" : Of Thomas Estaque, Amaury Pierron, Paul Couderc, Hugo Frixtalon, Pierrick Lannes and many others ? here ?