Rich in its reliefs, steep, mountainous, sometimes hilly, Ariège is the queen destination of the Pyrenees for the mountain biking. On the Chemin des Bonneshommes, on the Cathare Trail or on our mountain biking areas, or in our bike parks, it's impossible to get bored on a bike!
Mountain biking in Ariège is ...
Ariège is a confidential mountain biking destination of which we are going to reveal some of the best nuggets! Follow the guide ?
spots
Turnkey trails or single tracks more or less technical of 1 km, or nearly 460 mountain bike routes divided into 5 distinct mountain biking areas (including 3 FFC labeled)
4 bike parks accessible via shuttles or chairlifts for descents on marked and maintained slopes: in total more than 80km of slopes, with impressive vertical drop (300 to 1400m vertical drop)
Choose your next adventure among the most beautiful MTB or VTTAE routes and routes (electrical assistance) to do in Ariège Pyrénées and / or the professionals who will accompany you in this experience!
events
L'Ariègeoise VTT – the last Sunday of June
Since 2020, the cyclosportive l'Ariègeoise has also been available for mountain biking. Many volunteers welcome you to this young event which already attracts more than 300 participants. Often composed of a certain elevation gain to find a 360° view of all the highest Ariège peaks, it will allow you to enjoy very beautiful singles. The course is often demanding, but the effort is quickly forgotten thanks to the magnificent Ariège landscapes that will be offered to you. Consult the Ariégeoise VTT website
The Orsalher MTB – the 1er Sunday in June
In Couserans in Soueix-Rogalle (09) located 15 km from Saint-Girons, the club offers an event with an average of 7 tracks ranging from beginners to the most athletic. More information here.
The portraits
Originally from Ariège, more precisely from Couserans, Thomas Estaque, dreamy, creative and authentic at the same time, evolves in this practice as a 100% pro Rider of Team Commencal. With his friends, Hugo Frixtalon, Paul Couderc, Amaury Pierron, Pierrick Lannes and many others, he shares his attachment to Ariège through various visual projects (but not only) in particular with the Hurricane and Segment projects that we let discover!
Or when VTOPO comes to ride in Ariège it looks like this 👇
experiences for all levels
Family mountain bike outing on the fun Montbel trail, a real treat between panorama of the Tabes massif and the lake and its beautiful turquoise color ==> Read the article
Caroline, our Outdoor specialist tested the DH mountain bike at the Ax-3-Domaine station, in the ♥️ of the Ariège Pyrenees! She tells you about her day, from the rental of equipment to the Black Hard (black run which is worth the detour). Speed, sensations and exceptional panorama on our beautiful peaks ==> Read the article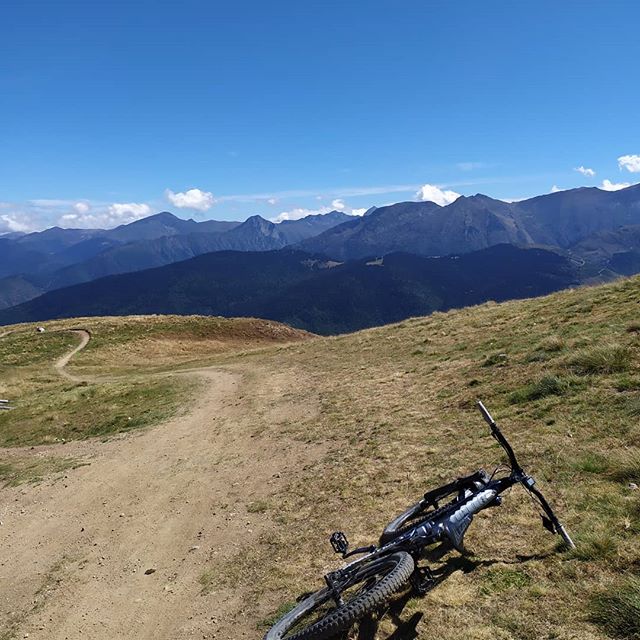 ---
Prepare for your mountain biking adventure