In Ariège, we count two large greenways, or equipped cycle paths either more than 80km ! Beautiful routes to explore the destination back and forth, from North to South and from East to West. Here, no cars! Only hikers, riders, rollerbladers and cyclists share the greenways, each at their own pace to explore Ariège 😄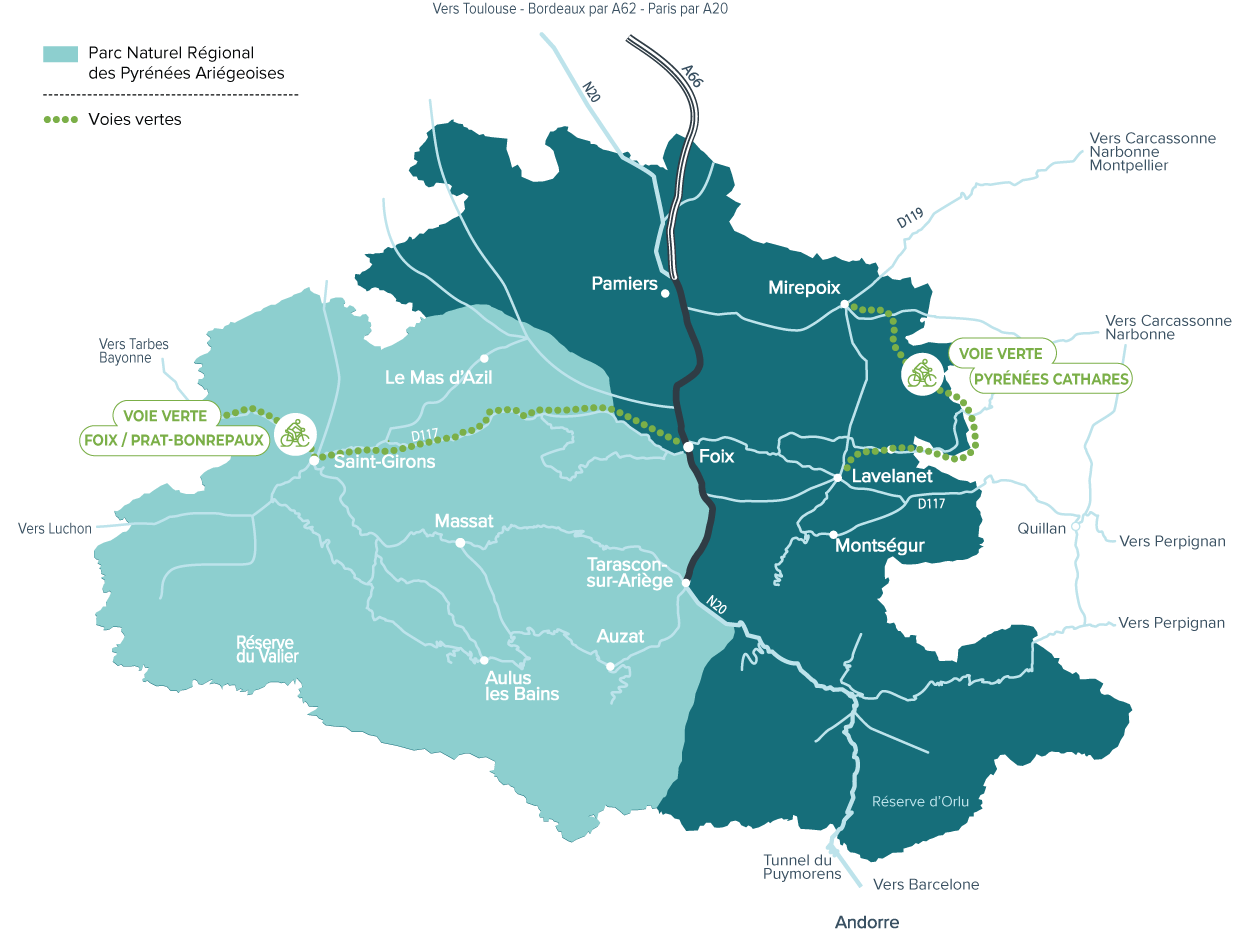 The Cathare Pyrenees Greenway (Mirepoix-Lavelanet)
The Chemin des Filatiers is the story of a railway line ... which became a dirt road. 38 km secure path between Lavelanet et Mirepoix, then linked to the Aude, to conquer the most beautiful remains of the Middle Ages: the castle of Lagarde, the city of Mirepoix, Camon ...
No time to do it all?
Here is our itinerary advice on the Greenway Cathare Pyrenees :

Mirepoix ➡️ Lagarde: about 16km round trip by bike, the opportunity to visit the beautiful Bastide de Mirepoix, and take a look at the Lagarde castle, or even get there (by leaving the green way).
---
The Greenway Foix-Prat-Bonrepaux
This route is in fact two green lanes connecting Foix to Saint-Girons then Saint-Lizier to Prat-Bonrepaux. They are old railways converted into hiking trails. On foot, by bike or on horseback, these two gentle hiking routes allow you to discover a preserved space, surrounded by green vegetation! All for 42km!

This route is moreover " labeled bike and cheese "! In the heart of the Parc des Pyrénées Ariégeoises, Vernajoul (3km from Foix), it allows you to discover on the route, producers of cheeses: Tomme des Pyrénées, tomme du Couserans, Bethmale cheese ... budding cyclists will discover on this route. point theAriège loves cycling… And cheeses!
No time to do it all?
Here is our itinerary advice on the Foix-Prat Bonrepaux greenway :

Rimont ➡️ Saint-Lizier it is about 30km round trip by bike which allows to see both theCombelongue Abbey and the famous City of Saint-Lizier !
A route from the Pyrenean foothills of the Atlantic to the Mediterranean
Between the Atlantic and the Mediterranean, Véloroute 81, currently in the works, will offer the discovery of the Pyrenees with a breathtaking view of the mountain range. Along the Pyrenean foothills of Barcarès (66) to Anglet (64), this route of more than 500 km crosses the Pyrénées Orientales, Aude, Ariège, Haute-Garonne, Hautes-Pyrénées and Pyrénées-Atlantiques . To date, more than 200 km of the route have been completed and 180 km are scheduled for 2022. Patience!
Vélocidade, bicycle luggage made in Ariège
It is in his workshop in Mirepoix that Velocidade designs responsible luggage to support everyone's small and big adventures on a daily basis. Convinced that the bicycle is the decarbonized solution par excellence for everyday commuting, Ricardo embarked on the design and conception of bags for artisanal way, From materials made in France. The shop offers saddlebags of different sizes to store sleeping bag, clothes, phone, mini-tent and other accessories useful in his excursions. Can also compose your own "bikepacking" kit according to his needs and his journeys!

Discover Vélocidade