Generous, thermal water from the deep basements of Ariège Pyrénées heals body and soul. Sulfurized, sulphated, calcium, magnesian, thermal water has been relieving since time immemorial.
In Ax-les-Thermes for example, a multitude of sources with sulphurous vapors spring up all over the city. Channeled and used for therapeutic purposes since the XNUMXth century, these waters are the hottest in the Pyrenees (77 ° C) ?
It was from the XNUMXth century in Ariège that thermal cures experienced a real boom: the greats of the world of the time came "Take the waters in the Pyrenees" and hydrotherapy became a real economic activity for Ussat-les-Bains, Ax-les-Thermes and Aulus-les-Bains.
3 spas, source of health and well-being
The variety and richness of the water in the Ariège Pyrénées destination today makes it possible to treat many indications: rheumatology, respiratory tract - ENT, psychosomatic ailments, gynecological ailments, etc.
For fun, you can also go and relax in the 2 spa centers from Ariège Pyrénées to Ax-les-thermes to couloubret baths or to Aulus Les Bains ! After one day of hiking or skiing, the moment is unique and liberating?
room for well-being!
How about taking a moment just for yourself? With friends, family, solo or as a couple, the thermal baths offer a real parenthesis of happiness and relaxation. Ideal to complete the holidays!

In our thermoludism centers, test the different spaces: hammam, sauna, vaporarium, frigidarium, caldarium...?
Massages are also offered in our 2 spa centres! Californian, Polynesian, Balinese, Oriental massage, Japanese beauty ritual, facial treatment... a real journey of the senses.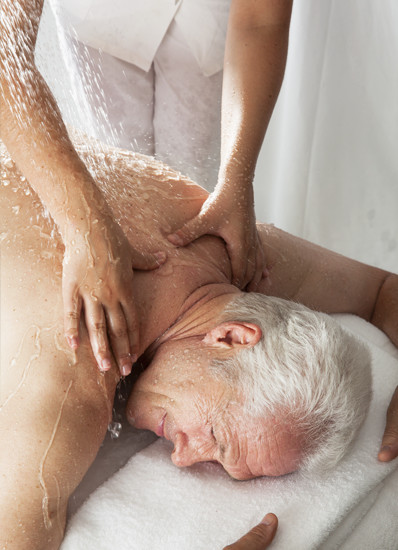 MEDICAL CURES OR FREE CURES?
The spa treatment is a medical act lasting 18 days. It can be single or dual orientation (eg rheumatology and respiratory tract) and is prescribed by an attending physician. The approved thermal cures are covered by health insurance organizations.
You can not free yourself 3 weeks for a cure? Note that all the thermal baths in Ariège offer mini-free cures from 1 to 12 days.
They are certainly not reimbursed, but it is possible to benefit from them without a medical prescription. With everything there is to do in Ariège around the thermal centers, it's like going on vacation!
---
All spas