With its hilly mid-mountain terrain, the Ariège lends itself perfectly to paragliding flights! Flight two-seater ou Baptism, quiet discovery flight, aerobatics, steering and sensations, for toddlers or elders, or quite simply to go further with the courses, the paragliding schools offer all lovers of wide open spaces to discover Ariège, seen from the sky…!

An indescribable sensation of freedom, the paragliding flight leaves travelers with lasting memories. An extraordinary adventure!
Our extra paragliding spots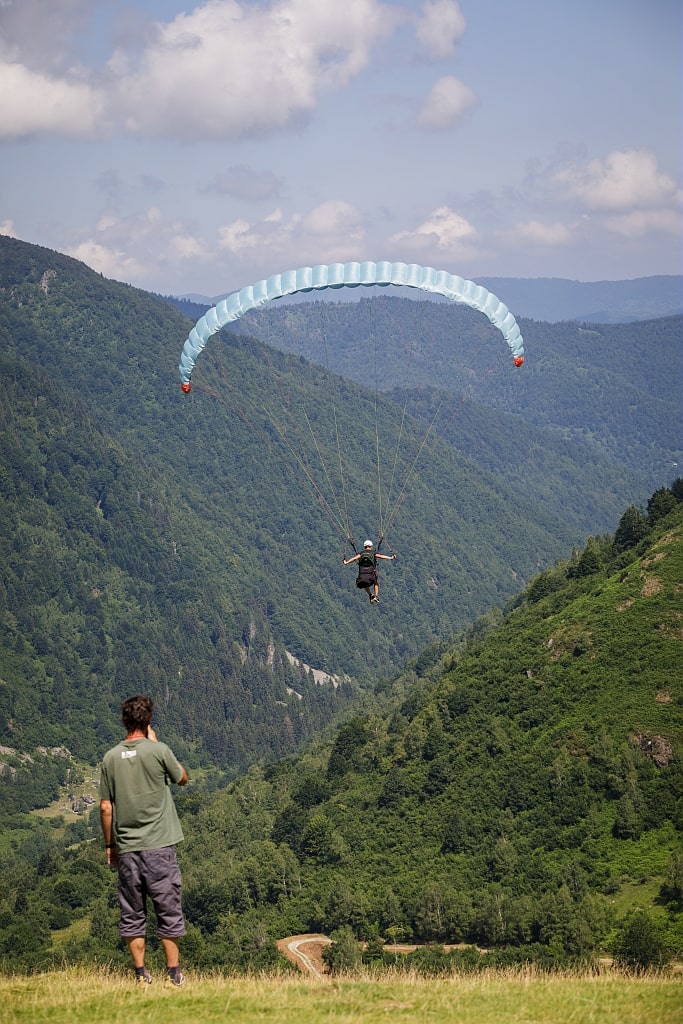 Le Prat d'Albis for a paragliding flight over the valley of the barguillère, and a breathtaking view of Foix! And in the distance… Montségur!
Moulis for a paragliding flight in the heart of Couserans, its forests of intense green and its airs of freedom, its view of the city of Saint Lizier and the Pyrenees in the distance!
The pond of Lers for an unforgettable flight over the pond and under the gaze of the Pic des 3 Seigneurs and Mont Béas.
The Mounts of Olmes to enjoy an incredible drop and an impressive view of the peaks in the middle of winter!
Above the castle of Montségur, for a coup de ❤️, unusual and full of emotion.
Good to know
We often hear about "paragliding jump" but the right term is "the flight"? We do not throw ourselves into the void, we take off very slowly. And if you have vertigo no problem with your feet off the ground, this feeling of vertigo does not exist when you fly in a paraglider. The instructors are real pros and will know how to accompany you in this activity which can at the same time be very cushy or even very sensational, it is up to you to tell them what your preferences are.
---
Find your paragliding instructor
Next
Previous
4
Next
Previous
5
Did you know ?
In Ariège, you can also do flights in winter ! Yes, our climate, mild in Piedmont, allows some schools to practice tandem.
And for the more adventurous, we can also test le Speed-riding ! Take off and landing on skis !!
---