How about we get away from it all together? Today, we invite you to discover a magical and unique part of the Pyrenees, a favorite destination for its far north spirit which marked us so much… Direction Ariège for unique and unusual activities to do during your next vacation in this pretty corner of France.
For these few days in the heart of Ariège, we decided to vary the pleasures and leave skiing aside to try out new activities: two charming and timeless walks, the first in the Angaka village, and the second with snowshoes, on the Beille plateau.
The village of Angaka, immersion in the great white of the Pyrenees
Have you always dreamed of discovering the Nordic countries? We can assure you that by staying in the village of Angaka, everything is there to imagine oneself in the far north for a few moments ... Lapland is just a few steps from you.
Visiting the village of Angaka is the promise of feeling even more the christmas magic, dream, and to take small walks adapted to all while offering a somewhat magical parenthesis.

This small village charms with its northern side, and to further the experience, it is even possible to do several unusual bivouacs : one night in a yurt, the construction of an igloo, one night in a tipi ... for an evening, you therefore become a great nomadic traveler. As you will have understood, we strongly advise you to spend a night in this place so isolated, disconnected and protected from the crowds of the many stations that can be found all around. And why not live this unusual experience with family or friends with precious memories?
Snowshoeing on the Beille plateau
How about continuing the trip to the far north? ? Whether you are a beginner or an experienced athlete, this snowshoe trip in the depths of the Ariège is not to be missed. Put on your snowshoes and let yourself be guided for a few hours on the heights of the beille tray, a remarkable site closer to nature. Here, each step is a discovery, a new sensation.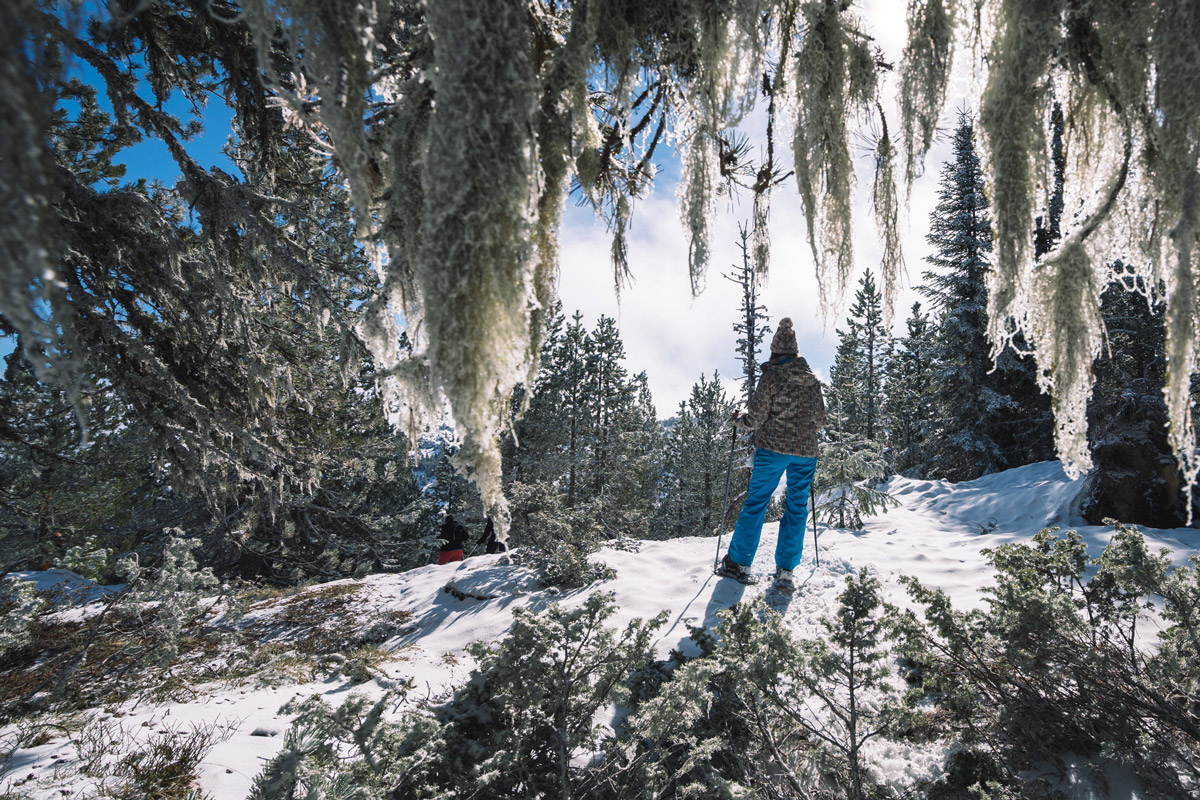 We enjoyed the silence of this snowshoeing trip in Ariège so much… The snowy landscapes left us speechless and we we are quickly overwhelmed by the emotion of this place so unique and protected from the Pyrenees.

The mountains, snow-capped firs, the snow crunching under our feet ... Accompanied by our naturalist guide, we take the opportunity to track animals like trappers, observing many tracks (squirrels, foxes, deer, etc.), we even try to learn to master this new environment for us, to find our way around as if we were drowned in fog, in short we experience the Far North!

We can say it, this snowshoe ride in the heart of the Pyrenees offers us a total change of scenery which we did not expect.
La snowshoeing in Beille allowed us to discover the different facets of this unique place. To do as a duo, with friends or family, with a guide as fascinating as we had the chance to meet during our stay in Ariège.
Fullerenes Ariège Pyrenees gave us even more desire to come back and live the various unusual experiences offered by the Beille plateau. Hikes, unique panoramas, night in the skin of a nomad and wonder at the mountain, everything is possible in Ariège.

This Nordic site in France has everything to seduce and we are already looking forward to returning there to renew the experience and discover other snowshoeing routes ❤️