Today I take you on the summer slopes of Ax-3-domains station to fill up with sensations! Practicing mountain biking in XC or all Mountain version for ten years, here I am decided to try downhill or mountain biking DH. I'm going to ride with my darling and 2 friends of his, who will give me all the tips' to properly understand the descents!

A rhythmic day with flow in the morning, picnic with a view of the Pyrenees chain from the Saquet plateau and commitment in the afternoon.
"Ax 3 Domaines" or "Ax-3-D" for aficionados, it's THE bike park which is going well to start and train for a day. Here we ride in the middle of the forest, ideal in hot weather ☀️
Downhill mountain biking is also for girls!
Far from following in the footsteps of the phenomenal Marine Cabirou 2020 world champion in downhill mountain biking or Veronique SANDLER successful competitor who now rides for fun, I decided to modestly try DH.
I start by warming up, alone, in the evolution area with my loc bike and my "robocop" gear (I explain below the gear to choose, you will quickly understand the reference!).
Go go! I start with my small size: 1,55m which does not allow me to easily put the bike in the rack of the chairlift of the "white hare", fortunately, the boom operator, takes the time to show me and explain to me how to do it. Cool, I am independent!

Direction the green track "the beginner" 6 km which connects the Saquet plateau to the Bonascre plateau. Is this track perfect? to start the day with many pins. Thinking to be a cannonball, the warm-up is finally perfect and allows the bad guys to see that "the girl" is not doing so badly.
And yes, for a girl who already rides a little, who likes to drive, and what's more, is a bit of a daredevil, DH MTB is an ideal and ultra fun activity. Are we perfectly well protected with a full-face helmet, protective vests, knee pads and a bike suitable for downhill?
At the end of a descent, confidence sets in, we easily put our brains down, we send but above all we have fun!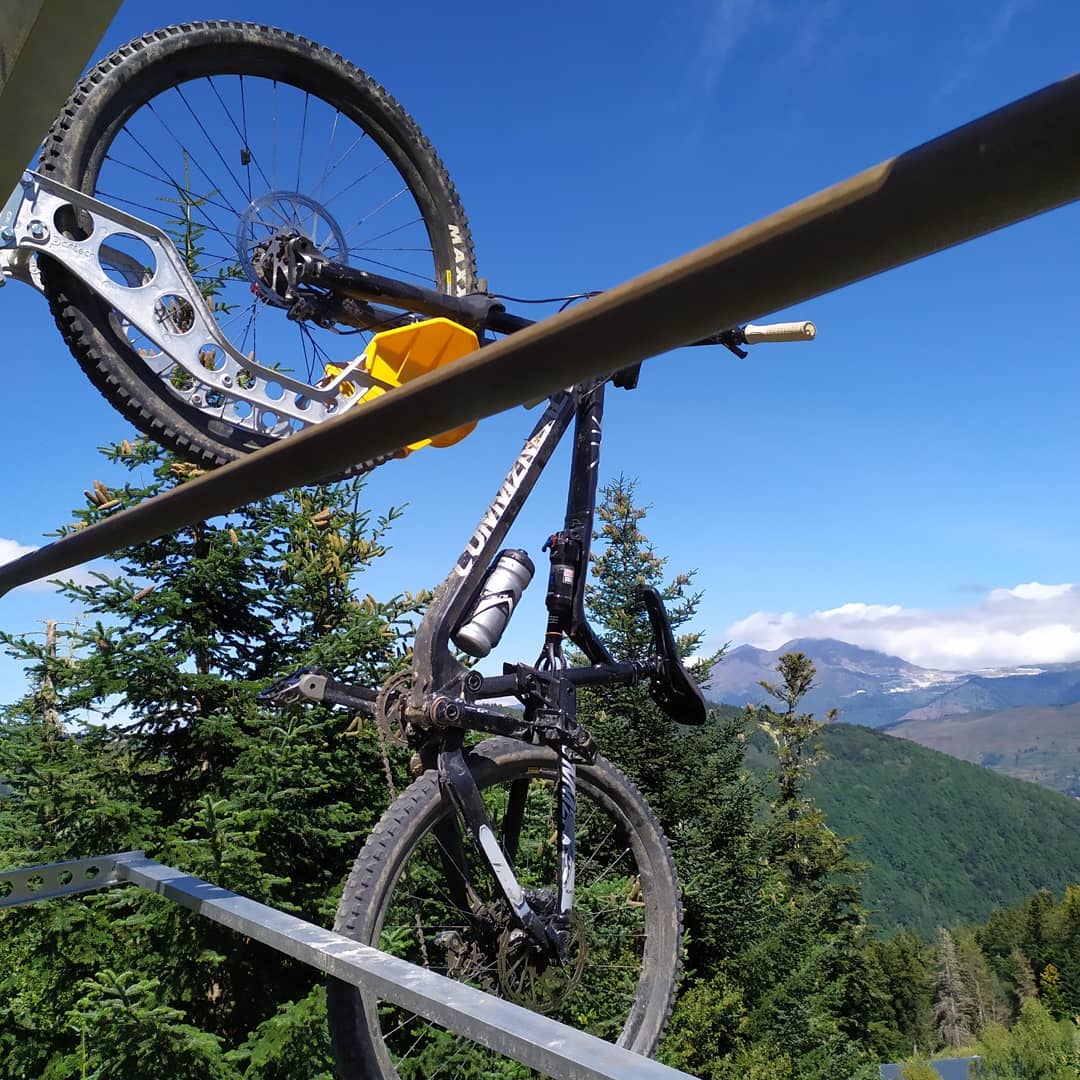 The beautiful mountain bike trails at ax-3-domains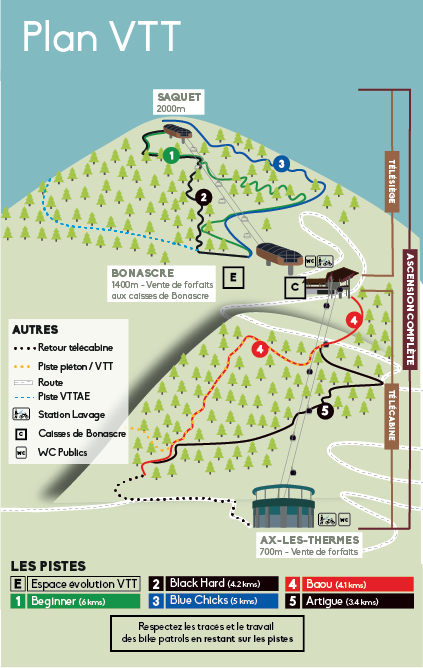 BEGGINER – 6KM (GREEN)
We put the cover on this track green beggineer and its 6 km ride, starts with an extraordinary panorama of the Pyrenees ranges. The track is well worked, or "Shappée" as we say in mountain biker jargon. We continue in the forest, on fluid and fun trails, with some roots for mini jump, and banked turns for a great driving session. This trail is perfect for beginners.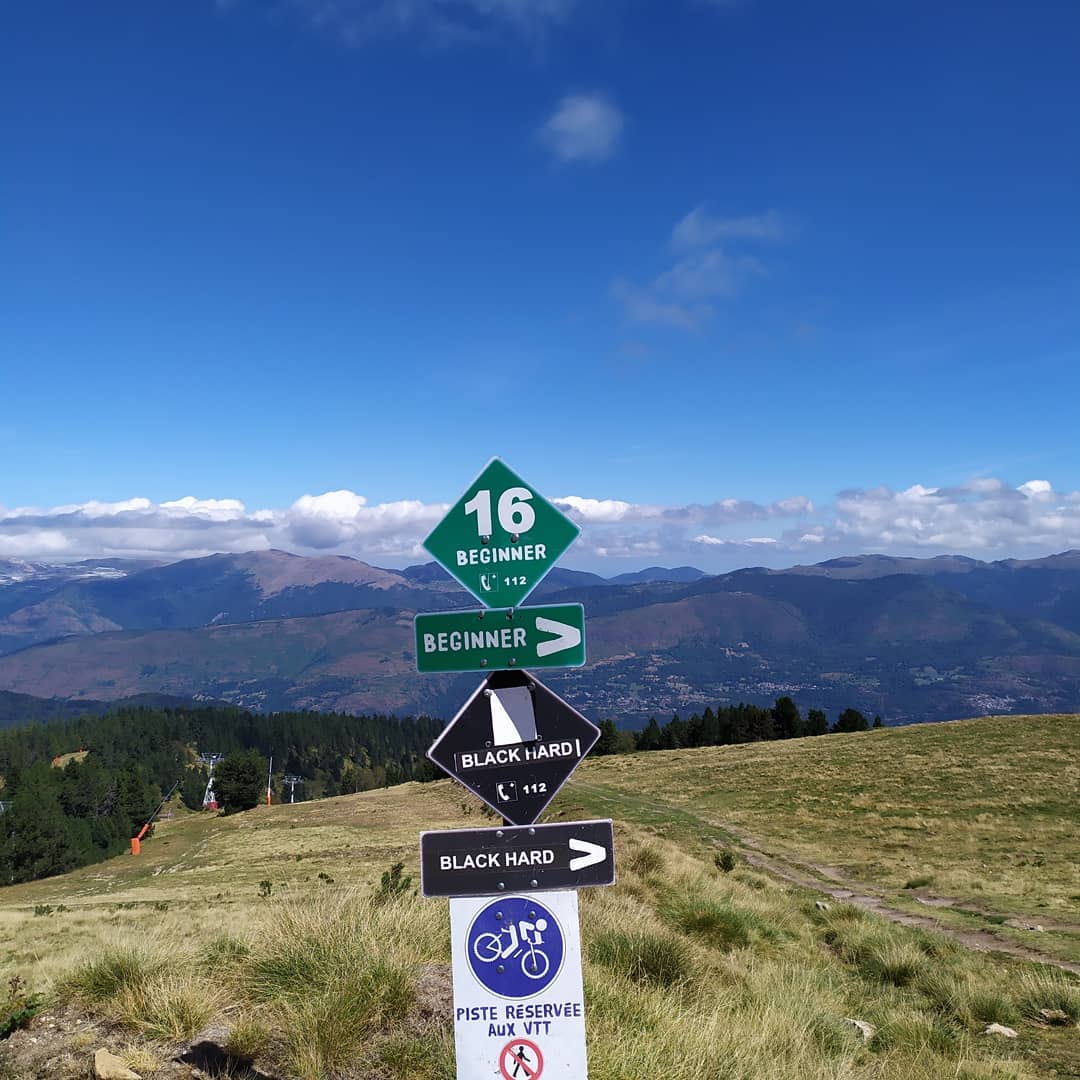 Blue chiks - 5km (blue)
Now it's time to attack the blue, a little more technical with wooden modules (small planks nailed to beams), high up in the woods, with many jumps. You can decide to jump or avoid them, it's up to everyone's mood. Always well shaped, and composed of singles, she is a cut above that allows you to perfect yourself.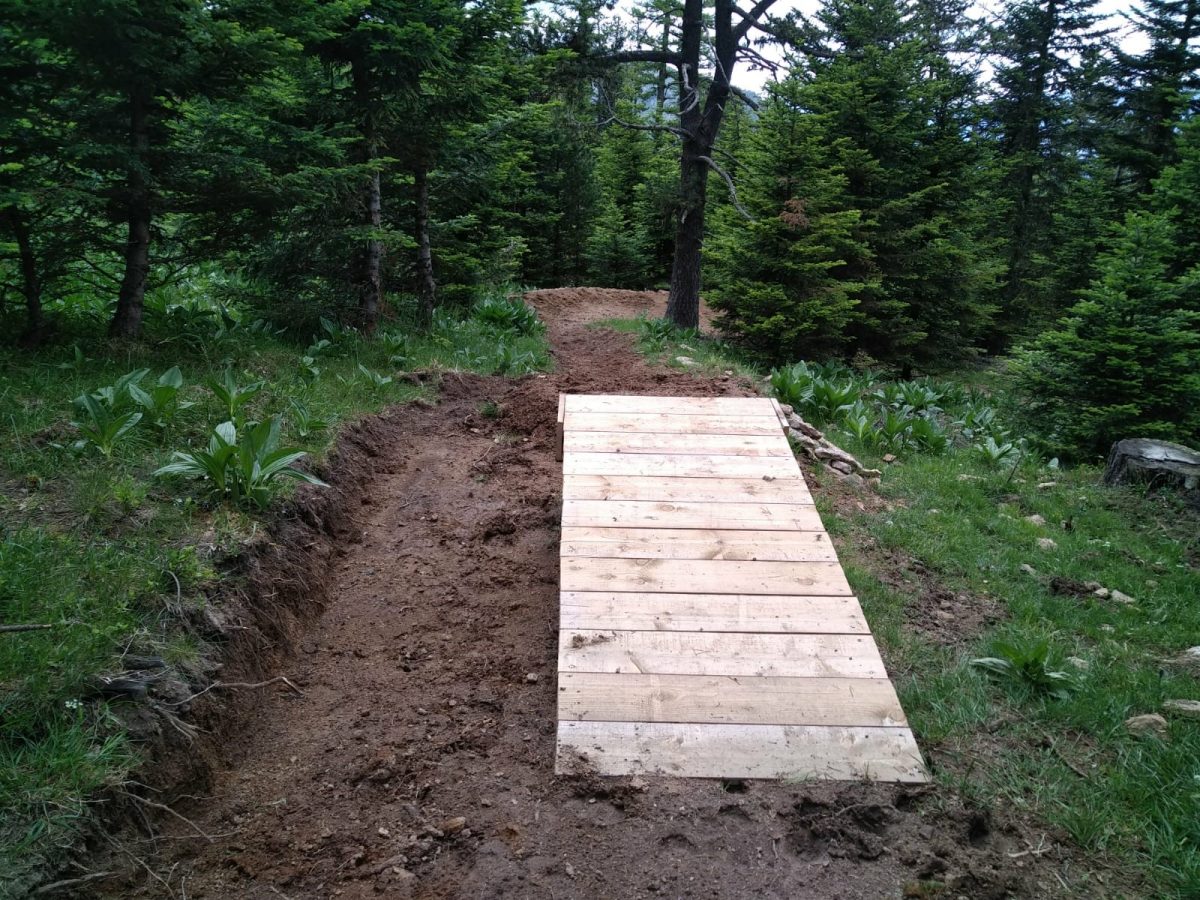 Baou - 4km (red)
This track connects the station plateau to the town of Ax les Thermes, this old pastoral path has a first rolling part through terraces. It is quite long with sacred technical passages on the enduro type end. The passages are steep and on stones. Basically a track that sends damn wood! We arrive at Ax we take a good break to then take the cable car up to the station on the Bonascre plateau.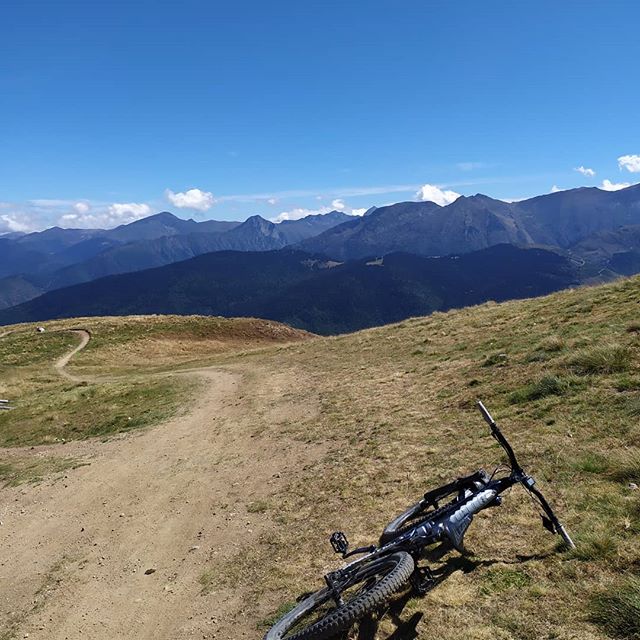 BLACK HARD - 4.2 KM (BLACK)

And to try the black one is essential! We take the chairlift of the white hare and we do not let go with this well engaged track. The North Shore passages will not be for me this time, but that does not prevent me from doing a few jumps, following the loustics and having fun. This track is really technical and sporty, passages with strong slopes, which I manage to pass with the encouragement of the guys.

It makes you sweat but keeping a flexible position, positioning yourself a little on the back of the bike, looking far away, it passes, it passes !! Breathing is also a significant technical element.
Photo: Panoramic view from the top of the track ©C.Bayard
All these techniques are not trivial, the ideal is to go with a mountain bike instructor, who is there to give many tips and advice. For the Ax 3 Domaines sector mountain bike instructors are at guides office !
The bike park in a few figures:
30 km of marked trails
1 m of negative elevation
1 Green slope: begginer 6 km - connects Plateau du Saquet-to Bonascre
1 Blue slope: blue chiks 5 km - connects Plateau du Saquet to Bonascre
1 Red slope: La Baou 4km - connects Bonascre to Ax
1 Black slope: black hard 4.2 km - connects Plateau du Saquet-to Bonascre
An ideal development area for warming up, beginners and kids
2 ski lifts dedicated to mountain bikers and hikers, including a "white hare" chairlift and a cable car (Baou)
2 washing stations (one on the Bonascre plateau next to the WCs and the other in Ax-Les thermes near the cable car)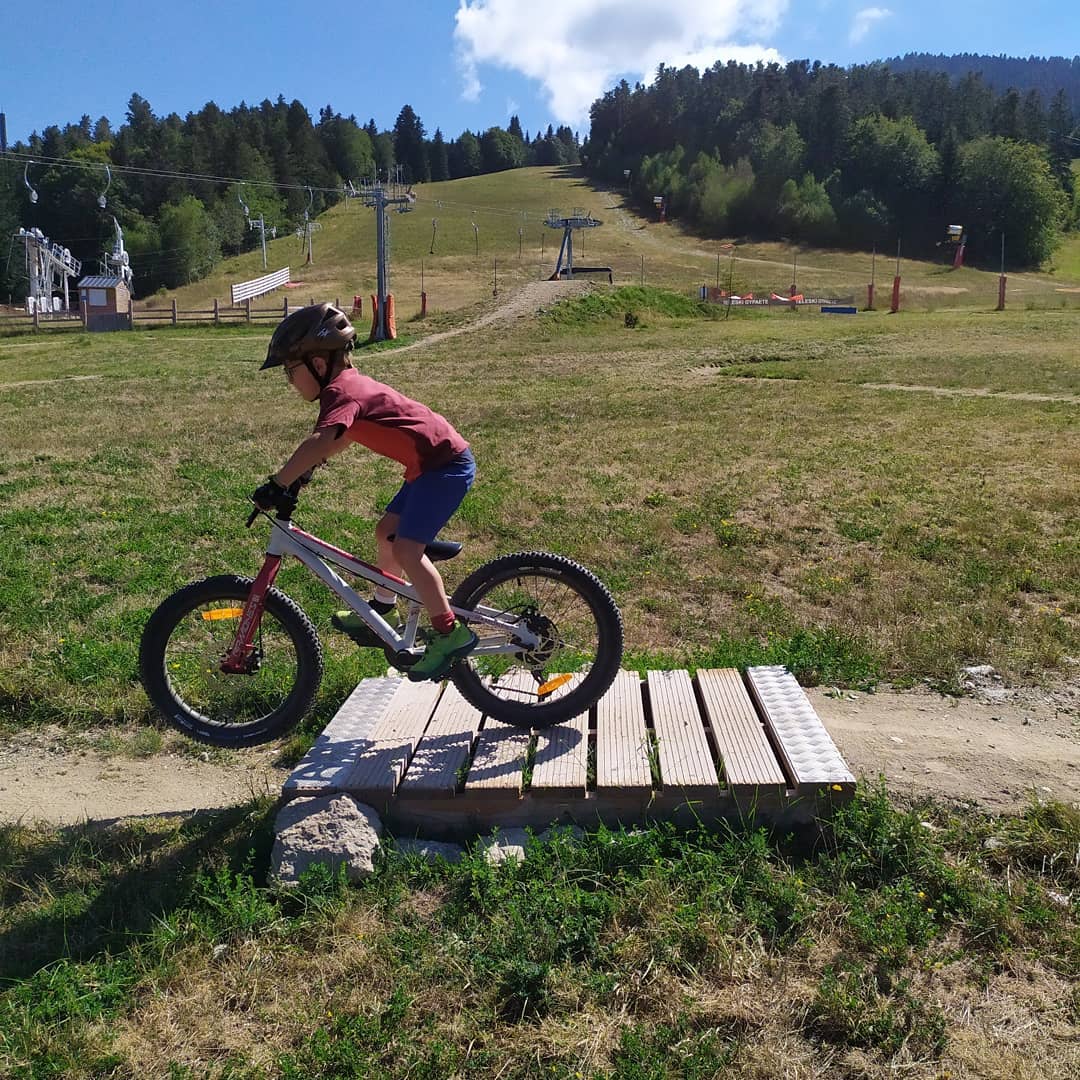 My gear for downhill mountain biking in Ariège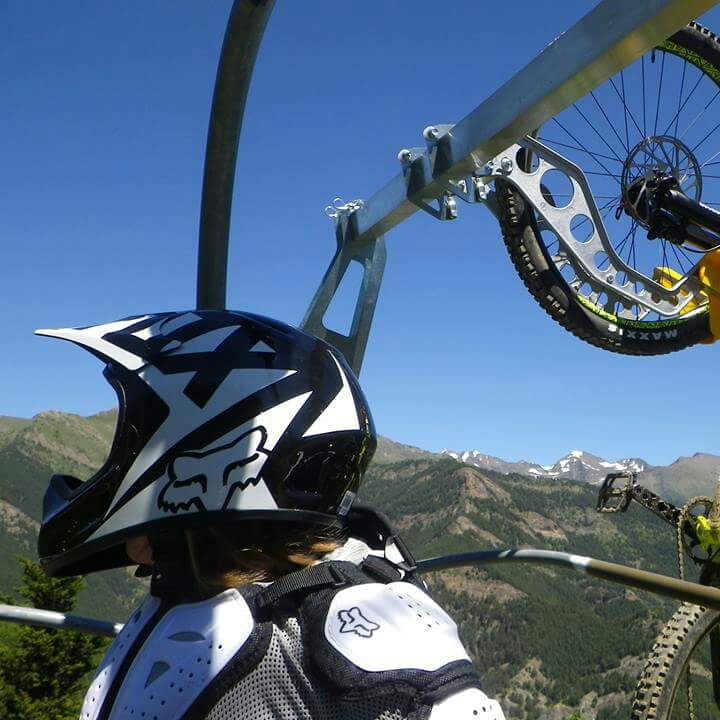 I usually ride an old semi-rigid specialized XC mountain bike, I just bought a full suspension Giant Liv (women's special) and I really enjoy myself.
But for this type of activity I preferred to rent a big DH bike and I do not regret at all!
Big DH bikes are more stable and really give you more confidence. We go everywhere!
I rented a mountain bike from the neighboring Andorrans brand, a COMMENCAL, the FURIOUS, ideal for fun. I also rented the protection pack with the full face helmet, protective vest, the long sleeve MTB t-shirt, knee pads, gloves. A complete set of gear for maximum pleasure.

I reserved all my equipment on the web the day before at Jean Claude d'Atout Glisse. I loved his advices and its material is very good quality !
Photo: on the chairlift ©C.Bayard
It is very close to Ariège ...
BIKE PARK VALL NORTH LA MASSANA
ok, this bike park is located in Andorra a few steps from the Ariège but it is a must-see spot for all riders. Open from May to October, this bike park hosts downhill mountain biking World Cups every year. Impossible not to talk about it, it is one of the Mecca of DH!
21 downhill circuits
1 meters of negative elevation
2 enduro
4 cross-country
1 of four-cross
1 of e-bike.
Training area
Kids Bike Park
1 Pump Track
Lifts are provided by three chairlifts and a cable car.
Bar HQ from the manufacturer Commencal
Finding accommodation at Ax-3-domains is easy!
There is an insane amount of accommodation at Ax-3-domains (bonascre plateau) or to Ax-les-Thermes. If you are in Bonascre, you are directly at the foot of the slopes, and that's pretty cool! If you're in the village, in Ax-les-Thermes, you can reach Bonascre in 15 minutes by cable car, and that's pretty cool!