Fancy a getaway worthy of a trip to Quebec? Do you want to experience real emotions and enjoy an incredible feeling of freedom? You have to try the dog sled rides with Angaka on the beille plateau, like me! Am I telling you all this?
Reservation: plan ahead
As a birthday present, I was extremely lucky to receive a gift voucher for a dog sled ride, at the Beille plateau with the mushers ofAngaka. It was my dream, and I had the incredible privilege of making it come true, a snowy month of February.
Like me, I advise you take it biiiieeeeen in advance for the reservation of your baptism: in general and this is the case for the entire Pyrenees chain, mushers are full 6 months in advance. For my part, my birthday falls at the end of June, I booked my baptism before mid-July for the following February.
Arrival on D-Day in Beille
So we arrive at the plateau of beautiful for a day that promises to be excellent: good weather and exceptional conditions at the Beille plateau. We love this spot in general, summer and winter: we come for a walk, eat a picnic in the sun, snowshoeing and even try your hand at cross-country skiing (much less restful than dog sled rides, I'm telling you).
Samuel, is our guide for the morning, he introduces himself quickly and takes us to the kennel.
We are already starting to hear the barking of the dogs, who must be impatient to get out of stretching their legs. Samuel then presents his job as a musher, the dogs and their function in the team.
The ride: a magical moment
After preparing the sled, we set off on the slopes of the Plateau de Beille! I find myself in the sleigh with my darling. From the first meters we are impressed by the power of the dogs and the speed at which they tow the sled !!! Perceived speed: up to 30km / h!
The fresh air arrives on our faces, we hear more than the sound of the sled sliding on the snow ... I feel a feeling of intense happiness invade me fully. I feel so lucky to be living this moment. The setting is splendid, the landscapes sumptuous.
Unfortunately, the harsh reality catches up with us, the outing is already over, These 1h30 have passed much too quickly.
Privileged sharing with dogs
The positive point is that after the outing we had a privileged moment with the dogs, we were able to take pictures, pet them. They are truly exceptional animals, fascinating, their sweetness and tenderness is surprising.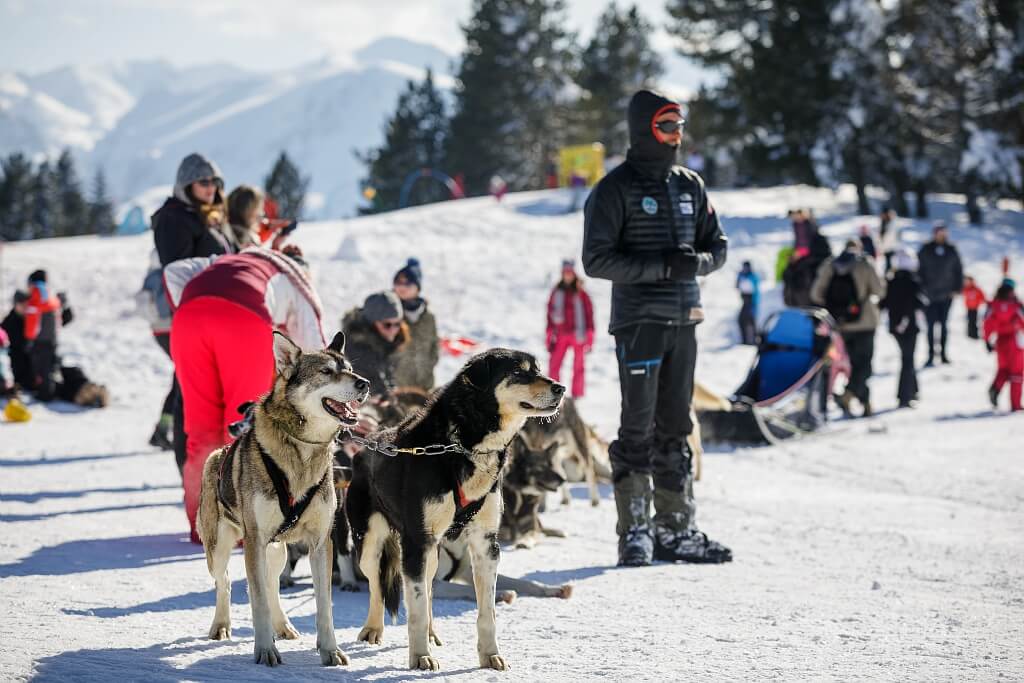 The return trip is extremely calm for me. I am lost in my thoughts as an adventurer and already thinking about the future that I will live.
Where to live this Nordic adventure?
I inquired ; you can live this kind of exceptional experience in Beille but also in Mijanes-Donezan and Chioula !