Last summer, we Ariège, we chose to spend a weekend in Ariège, a few kilometers from our house. In the program ? Bivouac, mountain biking, horse riding in Montbel ! The wind was very present that weekend, instead of sailing a catamaran, we chose to have fun mountain biking around Lake Montbel.
Our little tribe:
a couple of passionate mountain bikers: Matthieu and his new Trail beginal mountain bike, me and my old Specialized semi-rigid
our son Johan, 7 years old, quite a good rider, equipped with his new 20-inch Commencal romanes, the best for kids! This Andorran brand not far from Ariège particularly satisfies us.
Ulysse our 14 year old nephew rents an VTTAE for the occasion.
Félicien, Matthieu's brother, and our 11-year-old niece Anouk will choose other frames.
Singles tracks, bumps and smiles
Auto pedals engaged, helmets properly attached, gloves in hand, off we go for 16 km and 150m of positive elevations. It is a first experience for Ulysses and Johan on this tour of the lake by mountain bike; And they love it: roots and singles make the course ultra fun!

While beginners quietly learn to cross a few bumps, to progress easily, we enthusiasts take off the wheels as soon as the opportunity arises and we follow the small single-track variants that weave their way through the forest.

The lake is incredibly rich, the course makes us enjoy this mixed forest made up of large trees and various predominantly Mediterranean tree species: birch, pines… Ideal for cooling off.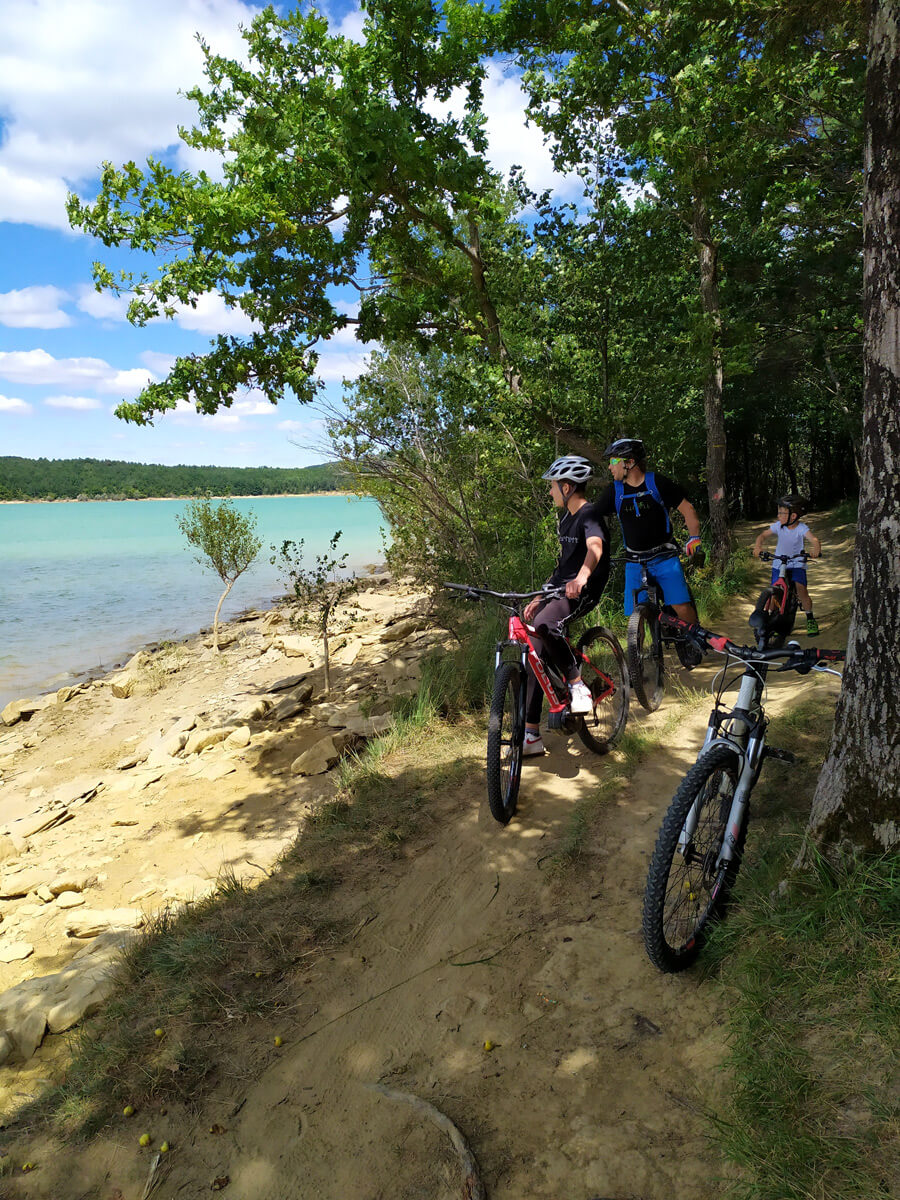 Regular breaks punctuate this mountain bike trip:
admire this lake with surprising colors,
observe the Léran leisure center in the distance,
take advantage of the improbable coves,
observe the Tabe massif and its summits (Saint Barthélémy and Soularac),
memorize the moment with some souvenir photos,
track the Windsurfers and Kitesurfers who came to ride today.
These mini-breaks also invite us to imagine fantastic stories. A sort of mangrove at the edge of the shores has trees occupied by falling vegetation, suggesting that Chewbacca has also gone around the lake, leaving his hair there! The more we ride, the more we share our passion with the children, each taking pleasure at their own pace. The conditions of the day are ideal for mixing beginners and experienced, the trails are dry and allow a smoother ride.

This tour is a real pleasure and gives a real sense of pride for us and our son!

A well-sized FFC mountain bike area
The mountain bike area, labeled the French Cycling Federation of the Pays d'Olmes and the Cathar Pyrenees, is well calibrated. Having tested a few circuits, we were regularly delighted with the traces and difficulties displayed (levels and height differences). The circuits had been created by a mountain biker and this is felt in the trails, the Tour du Lac is also part of it and it can be done in any season even if in spring and winter the course can be very muddy in weather. rain, another way to go around in a more sporty way if you like the difficulties.
Rent your mountain bike near the lake
To do this tour, we contacted two mountain bike rental companies: Velomondo based at the Léran nautical base on a break on Monday, and then contacted the karting sharp treble and we rented a VTTAE for Ulysses who made a few more km to reach the lake but with the electric assistance it was almost "hands-free"! We also made a stop at the local repairer: Cycl'olmes Pyrenees to completely bleed my hydraulic brake circuits. He was thus able to remove the old oil by driving it out with the new oil and keep it for recycling.
Shimmering and surprising colors
Lake Montbel is precious!
It offers us shaded colors of green and blue that change according to the wind, the light, the depth of the water, the place where we are. Ranging from blue to turquoise green, passing through a darker blue or an emerald green, this lake is a real gem!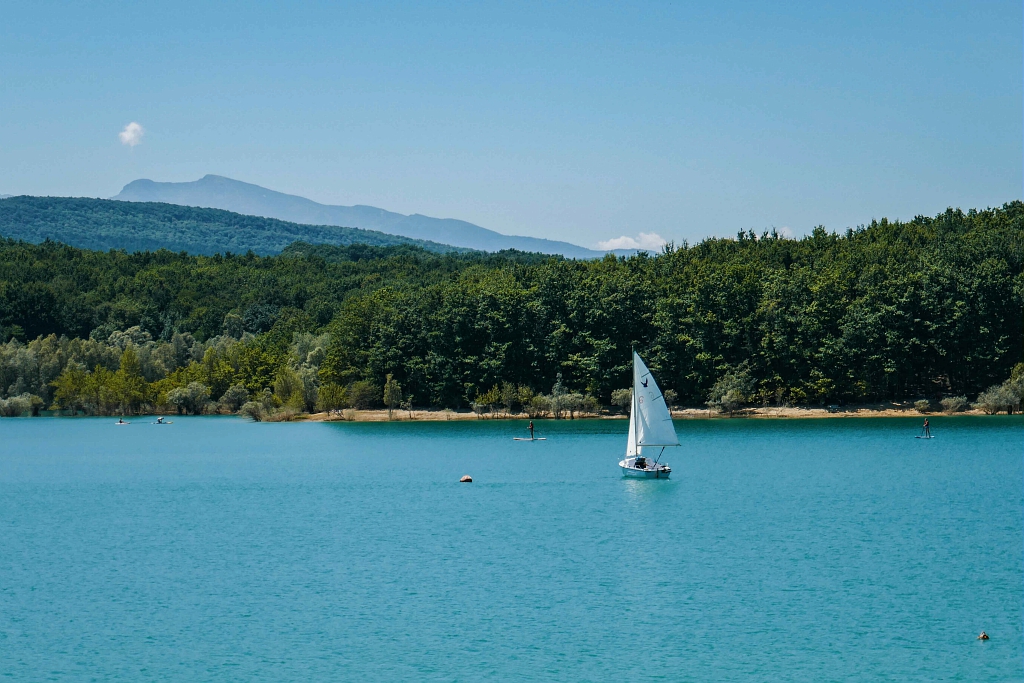 Warm colors such as pink, yellow and orange complete the palette during a sunset. After our mountain biking afternoon, we picnicked on the dike that separates the constant lake and the variable lake and we were able to admire the flamboyant colors of the sun leaving for the other side of the planet.
Nature is not to be outdone and surprises again!
She offers us a new scene with yellow, reddish hues. On the horizon of the trees, reflected in the lake, in the middle of a starry sky and the songs of owls and crickets, our natural satellite: the moon, this emblematic star puts on a spectacle by gradually rising in front of us.
This colorful day will remain etched in our minds for a long time.
and why not a tour of the lake on horseback?
Our mechanical mounts don't have more at all. Félicien and Anouk very little motivated to go mountain biking left us to test other mounts. Naughty, a nice mare will carry Anouk and Tornado, a beautiful merens, horse from Ariège, will share her ride with Félicien. Left for a quiet hour on horseback, rented at the equestrian center of Léran, our tribe suspecting it is found on the way.

The mountain bikers cross the riders and a joy amplifies us all, because for a moment we are all gathered to share the tour of the lake in our own way. Dad and his daughter's peaceful horseback ride then gives them time to go and enjoy Léran beach and a swim, all accompanied by a coffee and ice cream served by Vincent the bar owner. / restaurant / camping the regatta.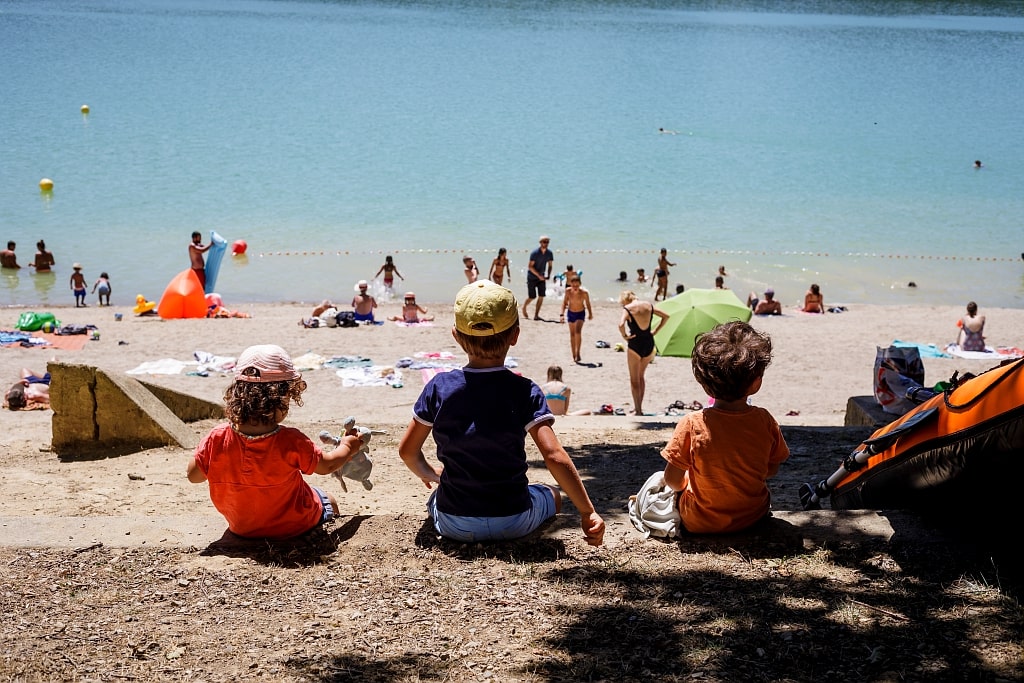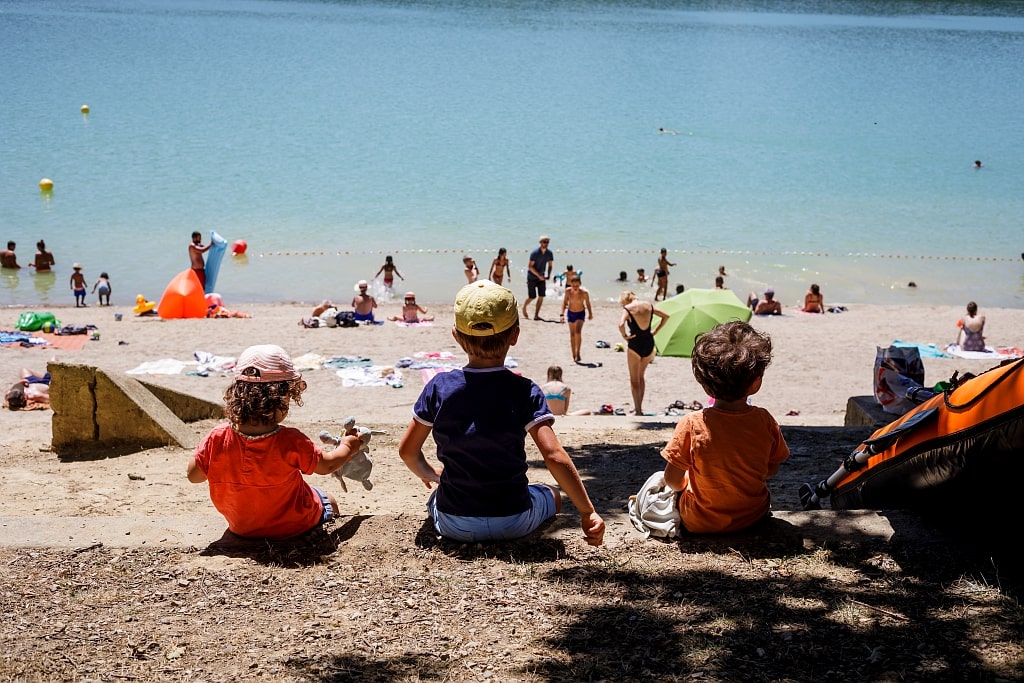 Lake Montbel is also a great spot for fishing, quite simply for walks, canoeing, pedalos ...